TV personality, painter Bob Ross
Before I start, I urge you to go on Youtube and look up Bob Ross RIGHT NOW if the name sounds unfamiliar to you. My first episode of "Joy of Painting" was at middle school when the whole show was broadcast on cable TV in Korea. What a peaceful world he painted! His soft voice, gentle demeanor and that puffy hair. He made a quite an impression on me.
If you are an artist, you must have an opinion about Bob Ross and his teaching approach. Anti-Bob Ross states his students end up painting exactly like him due to rote method of learning.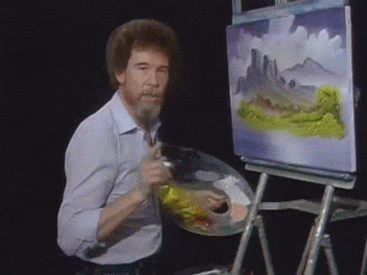 Honestly? I think he was a brilliant teacher who believed in everyone's potential regardless of his/her artistic talent. Furthermore, he brought me down to earth in that I came to realization art doesn't always have to be serious and complex. It could be comforting, pleasing with simple context although it may not suffice museum collection requirements. Not everyone creates art wishing to make in prominent museum collections, right? Plus, didn't Bob Ross make art education (not college-level though) accessible to public?
With that thought, I'd like end this posting with hilarious video on Youtube. Hope you enjoy Picasso vs. Bob Ross rap battle!
Written by Joomi lee, BBuzzArt Marketing
This article was published for artists and art enthusiasts by BBuzzArt.
BBuzzArt is an art social platform to preset new and emergin art and to share simple and sincere feedback. It is open to every artist and art enthusiast around the world.
Available on Web Mobile: